I've not been really into using whitening products but as the world heats up around me and the sun especially darkening my skin more than I am ready for, I find myself willing to try them. A lot of thanks also go to a friend who who made it possible for me to try these lovely products: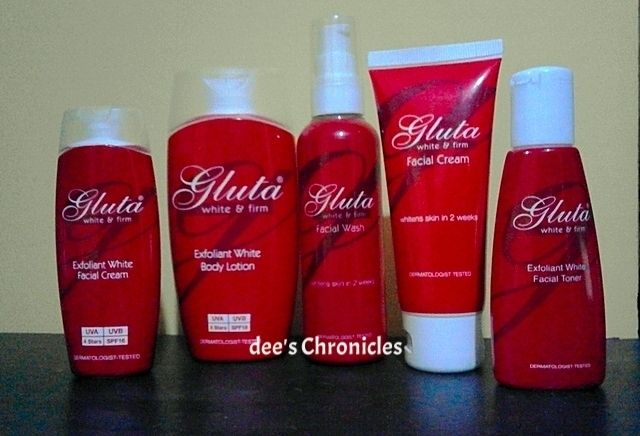 The good thing about Gluta White and Firm is that it has a whole range of skin whitening products. As you can see they have a facial wash, facial cream, exfoliant white facial cream, exfoliant white facial toner and even an exfoliant white body lotion! They even have a soap, deodorant and facial powder! Now that's a complete beauty regimen for you and me!
What I have particularly appreciated from their complete set of products is their facial wash and exfoliant white body lotion.
The Gluta White and Firm facial wash is gentle on the skin and it smells good, too! I could see that consistent use of the product for several weeks can help lighten up our sun-soaked skin 🙂  I also appreciate its packaging which is quite different from other facial washes in the market. I find it convenient to use and there is no fear of spilling should you place it on your beauty pouch and bring it with you during one one of your travels.
The Gluta white exfoliant body lotion seems a bit thick as you squeeze a portion of it but as your rub it on your skin, you will see that it is easily absorbed. You don't only get a fairer skin with this product but you can also see how it can smoothen your skin. And did I mention it smells good, too?
Using the facial cream, the exfoliant white facial cream and the exfoliant white facial toner assures you that your whitening and beauty regimen is nothing less but complete 🙂
And so if you'r looking for whitening products to try, you should check out Gluta White and Firm. When you do, let me also know how it works for you.
You can also check out Gluta White and Firm FB page for more information about their products as well as some helpful beauty tips.